PROGRESS/CHANGE LOG:
30.03.2022 - All electronics SMD parts gathered / bought; still missing some mechanical connectors

dvi-i sockets on the way

power switches on teh way

tht crystals only received 50 pieces; rest on the way

01.04.2022 - preorder starts
03.04.2022 - Official WWW launched http://medusa-sc.org/index.php?title=Description
04.04.2022 - first pre-production units bottom side assembled
06.04.2022 - casing prototyping based on step model; audio out stereo jack added to Medusa; (LATE NIGHT UPDATE: CASE ALREADY CHANGED... LCD WILL BO ON TOP)
---
07.04.2022 - case corrected and improved.. much better now :-)
15.04.2022 - top side DONE :-) - PREPRODUCTION RUN SUCCEFULL.
---
Medusa is coming; after many experiments with framemeister, OSSC and others, we decided to make quantum leap ahead all competition and make sth MUCH BETTER :-).. and to be honest - WE DID IT !
Medusa project was started 6-7 years ago, when 2 people - old retro stuff geeks have met - Acidmaker (creator of Sio2sd and proffesional file system used at Harvard, Columbia university and many others) and me. Since very beginning Acidmaker was into gettting perfect picture from ATARI ST / ATARI 8bit / Amiga. Meanwhile, me (lotharek), as opposite side, was into simple usage, ergonomy and user friendly interface. After 5 long years of develomennt, many protototypes, hours of discussions/testing, thousands of euros spent (obviously...) we are very happy to announce, that final project is coming and it is about to be released in preorder for retro community soon.
What we are about to offer:
device, that converts picture from retro systems to modern displays, that utilise dvi output (with small/cheap adatper also HDMI)

device, made at my automatic lines, that represents highest standarts of smd/THT assembly

device in metal case with nice oled lcd

OSD !!! both on small lcd and displayd picture

addidtional completly NEW approach to picture seetings (usb connection PC-MEDUSA) via terminal banging.

easiest worlwide firmware flashing (just connect medusa to PC/MAC via usb)

Medusa accepts almost all SIGNALS that retro computers can produce:

composite ( yellow chinch, via scart)

Svideo (via scart)

RGB ( via scart)

RGBHS ( via vga connector, separat syncs)

2 functional jack 3.5 mm stereo - working as insput and output

DVI-I output port working in many modes: along with adapters: DVI_I it supplies vga and digital picture, thus old crt monitors as well as modern TVs may be used

hundreds of slots for customers display sets

at the momnet of relase, MEDUSA will detect and properly will display following systems in all available formats:
FUTURE PLANS:
we are counting on You! please support us - we want You to test all devices /consoles You have. Let us now what vide modes shall be added to firmware. We are sorry, we cannot add all available systems to device at the moemnt of sale. But HEY - we will add it to next firmware release, thus preorder price is much lower that final.
Power supply:
Inputs:
compoiste video ( via scart)

S-VIDEO (via scart)

RGB (via scart)

RGB via VGA input ( separate syncs)

component ( via scart and vga)
Otput:
Some history - 5 years at one picture :-))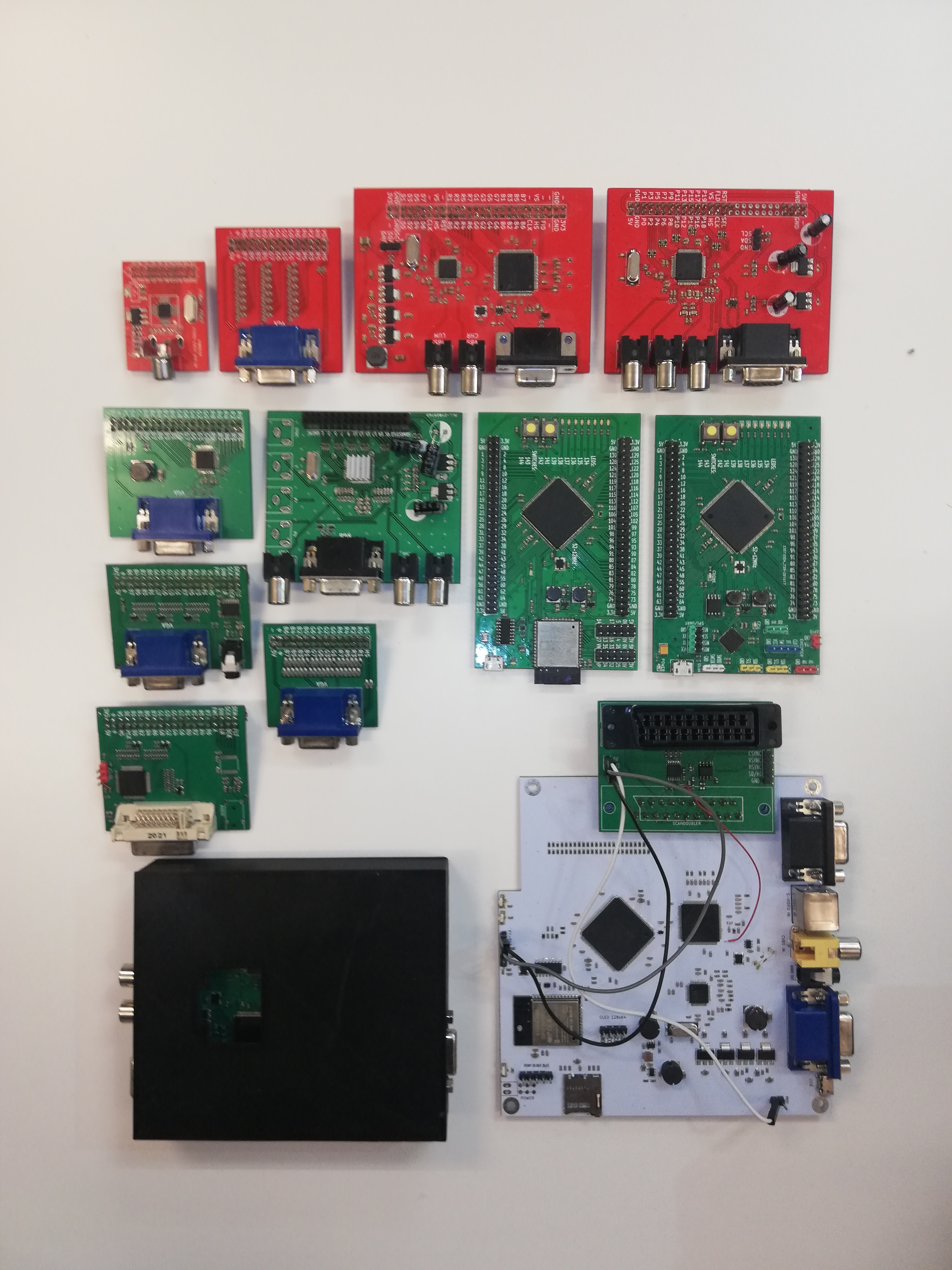 ---
Product gallery
---