DISCLAIMER :
Do not ever disconnect unit while computer power is on. In this moment You can destroy main CPLD - cost of repairs is 35E !
Do not remove CF CARD while power is ON !
Do not do any solderings on device - You loose warranty !
DIVIDE is an ATA (IDE) interface what means, that You are able to use CF cards - with DIVIDE 2k11 without any adapters. The idea of this device is very simple - just PLUG and PLAY ! And - REALLY - that how it is !


Some technical info :
divIDE uses full 16 bits of ATA bus (1)

divIDE works on all ZX Spectrum flavours (16, 48, 48+, 128, +2, +2A, +3 and clones)

Thanks to divIDE's onboard logic, theoretical transfer speed is 218 KB/sec (determined by the latency of INI/OUTI instructions)
divIDE has 8 KB of shadow flash ROM that hosts operating system core, leaving your original ZX Spectrum ROM intact. Additional 32 KB of RAM accessible as 8 KB memory banks are present.
divIDE's auto-mapping feature transparently maps shadow ROM at important entry points, enabling standard tape emulation, BASIC extensions, NMI menu and DISCiPLE/+D or BetaDisk emulation.
divIDE's MAPRAM feature helps developers and users to test new software without the need of reflashing their working system in shadow ROM. It can also emulate another 8 KB of ROM if necessary.
divIDE works with all ATA-compatible devices (there are no known compatibility issues)

Available software supports widely used emulator formats (TAP, SNA, Z80, SCR). Just download your all-time favourite games from the web and play

In order to play with DIVIDE follow this short manual :
1. Prepare Your CF CARD ( card sold with interface are already prepared), but if You want to use another one, please remeber:

There must be one ACTIVE partition on You CF card ! This is very important !!! If I may suggest sth, the best way to do this is to use WINDOWS XP instalalation CDROM and Bill`s FDISK.

In Your PC BIOS, disable all hard drives - VERY IMPORTANT !


Plug USB CF CARD Reader to Your computer

Boot Your PC from Windows XP installation cd-rom.

Few seconds later You will have the posibility to erase all present partitons on CF card - Do it ! Remember - this operation will completly destroy any data on Your card.

Make a new partition

Exit the installer !

Enable in BIOS all Your hard drives and start WINDOWS

Format Your CF Card/Divide hard disk using FAT16

Put on new formatted card whatever You want. Divide handles with : *.sna, *.z80 and *.tap files

2. Connect divide to the edge connector of ZX SPECTRUM:

3. Inser CF card

4. Turn the computer on and observe the screen

It should display big DivIDE logo, list some important data (found IDE devices and number of disk volumes) and "Press any key" request. After pressing any key follows a classic reset (black screen and a copyright message after it).

5. Loading first game

Press NMI button on the controller; a simple file selector appears.

Using cursor keys (CAPS SHIFT+6 or Q, CAPS SHIFT+7 or A ) locate the requested file with TAP extension which you want to work with and press ENTER.

Using LOAD "name" command (or just LOAD "") load the file in just the very same way as from tape, but dramatically faster.

In order to load other game, press NMI button on the controller again

choose other *.TAP file and holding SHIFT press ENTER...

type LOAD "" ....

All above steps are not necesasary loading *.z80 or *.sna files.
DivIDE 2k11 is fully compatible with original DivIDE 5.7c, but whole logic has been moved to powerful CPLD, therefore future development of device is possible.
JUMPERS SETTINGS
JP1 - for ZX128+2A/+3 must be in upper position
JP2 - enable system (upper position) / disconnect system + enable reflashing eeprom (lower position)
(picture A)
Setting for ZX48,128,+2(grey) and other clones. (not use this setting on +2A/+3 models !!!)
DivIDE system is enable (default)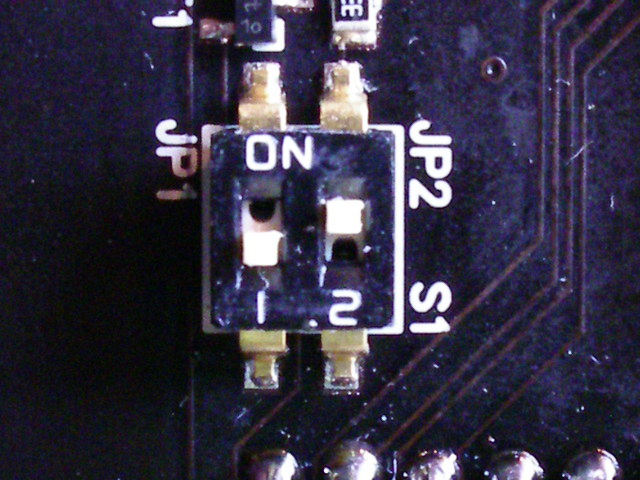 (picture B)
Setting for ZX48,128,+2(grey) and other clones. (not use this setting on +2A/+3 models !!!)
DivIDE system is disconnect, enable reflashing eeprom, enable allram mode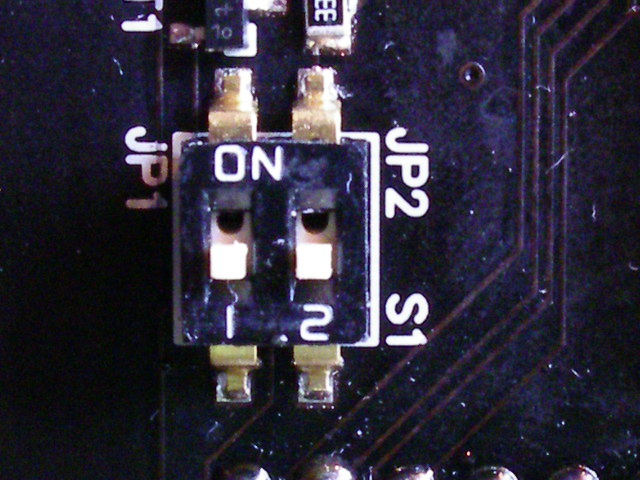 (picture C)
Setting only for ZX128+2A/+3 (not use this setting on other ZX models/clones !!!)
DivIDE system is enable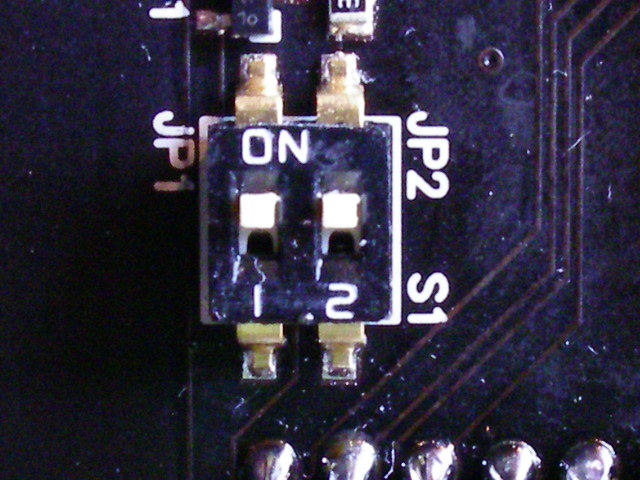 (picture D)
Setting only for ZX128+2A/+3 (not use this setting on other ZX models/clones !!!)
DivIDE system is disconnect, enable reflashing eeprom, enable allram mode
In this mode is DivIDE usable with +3E rom (work as 16bit +3e ide interface)